Choose Local.  Choose Lloyd.
Lloyd Security is a family owned business with more than 30 years experience. When it comes to serving the Twin Cities metro area, we are everything local! Our office is located in Minneapolis, MN and all of our employees reside in parts of Minnesota, so they are well equipped, not only in the knowledge of security, but in the knowledge of Minnesota safety, weather, and community.
Our Team & Our Services
Lloyd Security installs, services, and monitors both residential and commercial security systems in the Twin Cities. We take the time to custom-design a security system dependent upon your specific wants and needs. Our team will answer questions and give recommendations about security devices you may never of thought of before, unique to the state that we live in together.  Already have a system installed? No Problem! We can takeover the monitoring of any existing system with competitive pricing! Lloyd Security also will work with your insurance company to get you the best discount on your homeowner's Insurance! Our goal is to help protect the ones you love! Call us today to schedule a FREE security analysis at 612.874.9295 or 651.646. 0131!
No Phone Line Required!
We know phone lines are quickly becoming a thing of the past, but did you know that if you get rid of your phone line your security system may not be able to communicate with the monitoring station? Here at Lloyd Security, we have the solution to keep your system active without the need of a phone line! Our cellular connection devices can take the place of a phone line if you do not have one or can act as a backup if you use a digital line. Cellular connection devices are great during power outages, or potential phone line cuts because it keeps your system running when you may need it most.
But that's not all! Our Alarm.com cellular device can give you great interactive capabilities! You can remotely arm/disarm your system, set arming reminders, view live video feed, and control Z-wave capable devices (lights, locks and thermostats) from anywhere in the world ALL via your Smart Phone, Tablet or any Web-enabled device!

Our Lloyd 4 Life guarantee is our promise to our customers that you are eligible to all of our programs, special offers, and great customer service! Moving? Ask one of our Sales Representatives about our "Great Move" Program. Lloyd Security also offers 3 months of FREE monitoring for every signed Referral! Click Here to Learn More!
               HOW SMART IS YOUR SECURITY?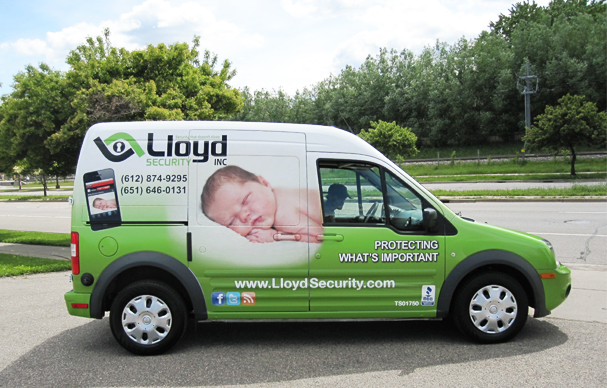 What our customers are saying: