The Pro's and Con's of a DIY Home Security Systems
home security minneapolis
home security minneapolis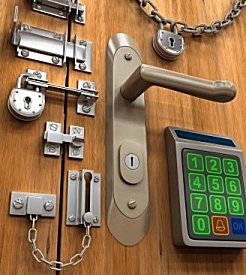 Residential home security minneapolis
As home security technology becomes more common place, I am often asked whether a Do It Yourself home security system is adequate to meet today's home security needs.  My answer is That depends on many factors
I recently stumbled across a blog article that presents both the Pro's and the Con's of the DIY models of home security. You can read it below.  I think it does a nice job of presenting both the positives and the negatives of DIY home security system.  Enjoy the article and be safe.
Pros and Cons of DIY Home Security Systems
Today's homeowners have an option in their home security arsenal: DIY burglar alarms. These systems are similar to what you get from a professional security company but with two main differences: you install your system (no technician available) and there is no company monitoring of your home's security.
Pros of a DIY Home Security System
It's Less Expensive
A DIY home alarm has most of the system components you're accustomed to keypad, door sensors, window sensors, and motion sensors and still costs less than $200 for a basic system. That's a one-time fee, so once you purchase your system, you won't have additional alarm expenses.
It's Wireless
Wireless alarm systems aren't hard-wired into your electrical system, which makes them easier to install, expand, move, upgrade, and change.
It's Portable
If you rent or might move in the future, a DIY system is easy to uninstall and take with you to your new location. This is particularly beneficial for renters, who otherwise might not have the option for an alarm system.
Online Monitoring
Many DIY systems offer smart home features, which means that via an online portal or cell phone app you can adjust lights in your home, change the thermostat, and perform other adjustments including home monitoring (depending on your system).
Cell Phone Alerts
If your security is breached, your alarm system is connected via cell phone signal to call you and anyone else you put on your call list. Generally speaking, you'll be asked to record a warning message that will notify 1-10 parties of the break-in. (You cannot choose 911 as one of these numbers.)
Today, DIY home security is much higher tech than it once was
Cons of a DIY Home Security System
Add-ons Can Be Expensive
If you need more components than come with your system for example, extra window sensors. you'll often pay $20+ for each new component. That can get expensive, considering most systems come with only two or three window sensors. If the ground floor of your home has eight movable windows, you might pay more than $100 additional for accessories to protect each window. The same is true for multiple doors and areas where you need motion sensors.
It's Simple
Most home alarm companies offer security options above and beyond their basic package: battery backups, redundant alerts, pet-immune motion sensors, panic buttons, fire monitoring (with fire company alert), and more. A DIY home alarm generally does not offer anything beyond basic wireless security.
No Connection to Police
One of the biggest advantages to a monitored alarm system is that the police and/or fire company is alerted in case of emergency. This does not happen with a DIY system, which notifies you (and others you put on the notification list), making it your responsibility to decide on the next course of action.
Limited Warranty and/or Support
Once you buy your DIY system, you're often on your own. The manufacturer may be able to answer basic questions, but you won't be able to call for regular tech support, free equipment upgrades, etc.
You're Responsible for Repairs
With a traditional burglar alarm company, they will replace faulty equipment free of charge, or at least at a reduced cost. With a DIY system, if a component (or the entire system) fails, the replacement cost is yours.
Incorrect Installation
True to name, you'll do it yourself with this system. Unless you're a security professional, that increases the risk of incorrect installation of your home alarm system.  Article from…
Conclusion
I hope this blog post helps you understand the pros and the cons of the DIY home security system.  Contact us so we can show you how to make your home safe and secure for you and your family.