Lloyd Security – Security Systems in Minneapolis, MN
With ten years of security experience, we are one of the most knowledgeable and respected security companies in the Minneapolis area. We serve the entire Minneapolis area, including St. Paul, St. Louis Park, and more. At Lloyd security, we offer a variety of high-quality security solutions for all of your security needs. We offer home security, commercial security, alarm systems, security camera installation, and more.
We offer high-quality alarms, intrusion detection devices, video cameras, access control systems, and a variety of other security devices. If you are looking to keep your home or business safe, Lloyd Security is your exclusive source for the best security products and customer service.
Commercial Security Systems in MN – Your Business Security Provider
Lloyd Security has provided alarms and related security systems for businesses ranging from small retail storefronts to large hospitals, office buildings, warehouses and more. Depending on your needs, we can put together a complete security package consisting a combination of the following products:
Intrusion detection systems that provide instant alerts when unauthorized access is detected.
Access control systems that use key cards to assign entry and exit permissions to employees and guests.
Video surveillance systems for the interior and exterior of your property. Video cameras are effective both as a deterrent and for collecting evidence should a break-in occur.
Video verification for eliminating false alarms when any of your security equipment is triggered.
Residential Security Systems – Home Security in Minnesota
We're also the top Minneapolis residential security solutions provider. We can design and install a state-of-the-art system that will protect your family and property against all types of security threats and give you additional peace of mind. As with our commercial systems, our residential security offerings include intrusion detection, access control, video surveillance and video verification, as well as 24/7/365 remote monitoring to identify and respond to a potential issue as soon as it occurs,
At Lloyd Security, we don't believe that a "one-size-fits-all" security approach serves the bests interests of our customers. Understanding that no two properties are alike and that every homeowner's security needs are different, we're able to develop a customized system that addresses your most daunting security challenges.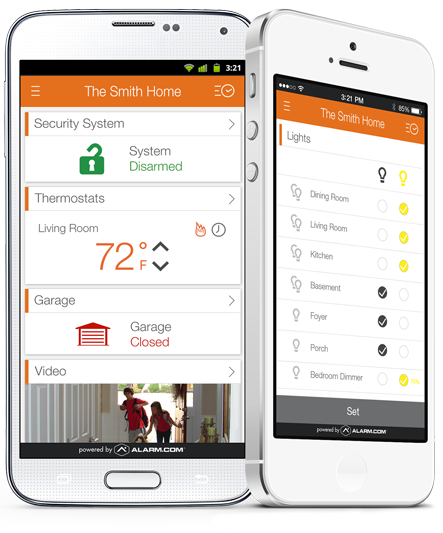 Control Your Home Security System From Anywhere
The same advanced technology in our commercial alarm systems is available for your home, too. We are a leader among Minneapolis alarm companies in matching homeowners with the tools they need to stay safe. Use our products to prevent break-ins and keep an eye on vulnerable pets, kids, and elderly family members. In addition to security alarms, we offer smoke, fire, flood and carbon monoxide detectors as well as lighting and thermostat controls.
Our all-in-one mobile app puts complete home automation right at your fingertips, with no complicated menus to navigate or codes to memorize. Our intuitive, easy-to-use app, which is available for iPad, iPhone, Windows Phone and Android devices, enables you to view live and recorded video surveillance feeds, receive instant alerts and set up custom alerts via your smartphone or tablet. You can also control your home security system features with just a couple of taps while you're at work or on the go. Use your app to monitor activity in and around your home, adjust the thermostat, turn lights on and off and much more.
Our mobile apps also work with our access control systems so you can detect and prevent unauthorized entry into your home. You'll be able to determine if you've left a door unlocked and, if necessary, lock it with a quick tap on your mobile device. You'll no longer need to worry about hiding a spare key in the event of a lockout or leaving one with neighbors when you go away on vacation. Our system is used by homeowners throughout Minneapolis and St. Paul Minnesota.
Maintenance and Support
Our reputation as one of the best security companies in Minneapolis has been built on our commitment to our customers. When you buy a residential or commercial security system from us, we'll be there to support you for years to come. We'll show you how to operate your new system and maximize its various features and benefits. We are a Minnesota security provider fully devoted to our customers. Our experienced technicians can perform routine preventative maintenance steps to ensure your system remains in peak operating condition. We can also execute small or more extensive repairs if needed. And when the time comes for a security system upgrade, we'll be there to recommend the best products and handle the entire installation process. One call to our Minnesota security systems company is all it takes. Get started by arranging your free consultation with the Lloyd Security team today.